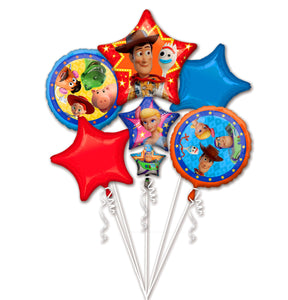 Balloon Bouquet Toy Story
This bouquet has a jumbo Toy Story 4 stacked super shape foil balloon featuring Woody and Forky, Little Bo Peep, and Buzz Lightyear; two round foil balloons with more beloved characters; and two star-shaped foil balloons, one red and one blue.
5-piece pack includes 1 jumbo stacked foil balloon (25" wide, 42" tall); 2 foil Batman comics balloons (17" diameter); 2 foil star-shaped balloons (19" diameter).

BALLOON BOUQUETS  
Includes foil balloons of varying sizes and shapes that are inflatable with helium. They are self-sealing, reusable, and show designs on both sides.
Balloon safety and care: (1) Balloons look their best at room temperature. (2) Inhalation of helium can be harmful. (3) Uninflatable or broken balloons can create a choking hazard. (4) Please properly dispose your balloons. Do not release balloons into the air. Help keep balloons out of powerlines and our waterways.