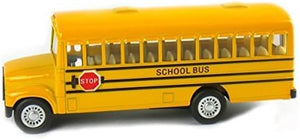 School Bus 5"
School Bus 5"
Die Cast Metal Cabin w/ Pullback Action 
This toy has the durability to withstand countless hours of action-packed, fun-filled, imagination-cultivating pretend play.

This super cool school bus looks just like the real deal. 

No batteries needed to fuel the fun. Simply pull back the fire fighting toy trucks to wind up the internal coil spring, release, and watch them whizz across the floor. The active play helps develop motor and sensory skills, improves cognitive function and enriches the imagination.