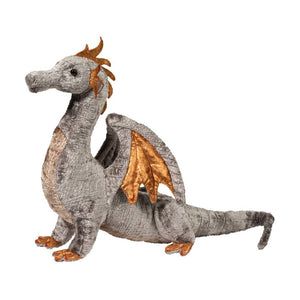 Dragon FAUST (Silver)
From his snout to the end of his tail, this handsome plush dragon is loaded with fun details! Silvery textured fabric gives Faust the impression of having scales, even though he is as soft and huggable as they come! And to further enhance his look, Faust's crest, wings, and claws have all been accented with shimmery materials of a coppery hue. Faust's stately pose will inspire hours of creative play but would also lend itself to displaying on a shelf where he can survey the kingdom. 
Dimensions: 9" x 5" x 10"