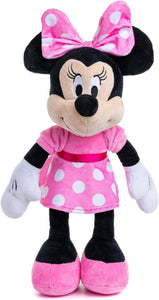 Stuffed toy - Minnie Mouse 15"
Minnie Mouse 15"

Kids Preferred presents this super soft, cute, charmingly detailed stuffed animal. Babies, toddlers, and kids love this classic and collectible comfy friend.

It is a huggable travel friend for kids on road trips & airplanes, or a cute bedroom decoration.

Disney Characters are instantly recognizable by young and old, bringing sweet memories from your own childhood as it brings joy to your children today.

Plush animals are fun to collect, trade and give as baby first gifts. And they make great keepsakes for children, teens & adults. Favorite stuffed toys are soothing for toddlers & make carefree pets!

Ages newborn and up.