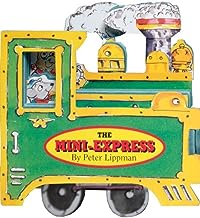 Book - The Mini-Express Mini Board Book
Mini-Express Steam Engine 
The Mini-Express takes readers on a fun-filled ride aboard a chunky and colorful die-cut steam engine. With the hiss of steam and clackity-clack of wheels on the track, the rhyming verse tells the story of Engineer Hoot and his crew of hardworking mice. Peter Lippman's energetic illustrations bring the characters and text to life on every page. Die-cut in the shape of a train, The Mini-Express is both a book and a toy; whether being read aloud or moving across the floor in play, it sparks a curious child's imagination. 
Colorful, chunky, irresistible. Peter Lippman's 2.2-million-copy-bestselling Mini-Wheels series is a hit with kids and adults alike. You pick one up. You hold it. You turn it around. You peer inside the windows, and then you pop the latch, opening the door to the story-and to a child's imagination. 

These lively books have doors that open and windows to explore, packed with adorable characters and rhyming action, Mini Wheels Books are a delightful ride through the reader's imagination.