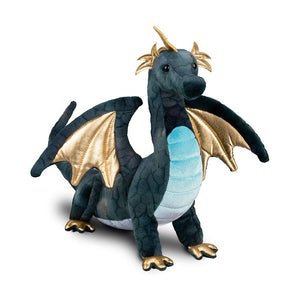 Dragon ARAGON (Navy)
Featuring an array of specially selected designer fabrics, Aragon has been crafted with rich, navy colored plush material featuring a textured scale pattern for realistic fun. Bright turquoise scales run along his underside and metallic gold accents detail his crest, wings, and feet. Aragon's alert upright pose and graceful curves add a touch of elegance to this handsome dragon plush toy. 
Dimensions: 16" x 7" x 12"