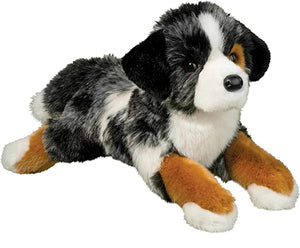 Australian Shepherd Dog MAIZIE
Maizie the plush Australian Shepherd features a beautiful merle patterned coat of soft faux fur. Her design has been crafted with high quality materials that will hold up to hours of playtime fun.

Soulful, brown eyes and detailed jowls create Maizie's lifelike expression. A slightly understuffed design with beans for weighted realism lends our plush herding dog an irresistible floppiness for high cuddle value.

Designed in Keene, New Hampshire, U.S.A. by Douglas Cuddle Toys, makers of exceptionally fine plush toys for over 60 years.

Measures 18.5" (47 cm) long.

Safe for all ages over 24 months, surface washable.